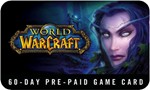 You will get time card World of Warcraft (EU+RU) for 60 Days instantly after payment.
***GUARANTEE MoneyStream - MORE THAN 16 years at Plati.ru***

🔑Activation card:
1. Start up the World of Warcraft Account Management process by visiting www.wow-europe.com/account/.
2. Click on the add game card link in the payment method box.
3. Enter your game card number then click continue.
4. You may now continue playing World of Warcraft.
❗Choose payment by card through LAVA and pay without fees!
💰Bonus for your positive feedback!💰
Buying WoW 60 days card from us, you get a number of advantages:
1. Instant depositing - payment you will instantly receive a code which you can immediately use;
2. You can use EA as you want for example you can pass, sell, give to friends, acquaintances;
- Our company has more than 11 years Moneystream exhibited at plati.ru
- More than 47,000 sales and 12,000 positive feedbacks!
- Moneystream has "passport Merchant WebMoney Transfer"
- Effective significant cumulative discount.
List of all our items and contact information can be found here:
http://moneystream.plati.ru/
If you were satisfied with the goods you can tell others about it leaving positive feedback.
28.11.2023 19:31:00
Моментально
24.11.2023 19:46:01
Все супер и быстро! рекомендую к покупке у данного продавца!
24.11.2023 7:22:56
все ок
21.11.2023 0:06:06
Всё супер👍
15.11.2023 20:34:11
Все отлично
08.11.2023 17:00:02
Все отлично! Код получил сразу. Все активировалось корректно. Супер!
04.11.2023 9:59:15
Все прошло оперативно и качественно, спасибо !
26.10.2023 19:59:45
Лучший!
Спасибо за сервис!
20.10.2023 23:57:56
Быстро и качественно!
Код успешно активирован!