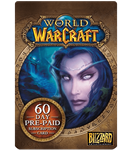 💸💸Pay with a Bank Card, WMZ, or Paypal. (0% fee)Only with us:
🍀 Instant delivery
🍀 Cheapest price
🍀 Receive a gift for Positive feedback
🍀 Most trustful shop with 24-hours after-sale services✒️ Just let us know if you face any problem with your purchased code, we are here to support you.attentionInstruction:
🍎 For Europe and Russia, and CIS Countries
🍎 Can keep license key without any restrictions on the validity period
🍎 Can access both World of Warcraft and World of Warcraft Classic
🍎 Use time card for 60 daysattentionAttention:
❗️NOT for USA, Southeast Asia, Oceania

❓❓How to redeem the CD key?

🕐 Log in to Battle.net Account Management.
🕑 Select the World of Warcraft license you want to manage.
🕒 Click Game Time & Subscriptions.
🕓 Select Redeem a Prepaid Card and click continue.
🕔 Enter the prepaid game-time code and click Claim Code.
30.07.2023 15:32:14
Однако. работает :-) Я боялся что и коды в регионе отключили
30.07.2023 10:42:15
все ок
27.07.2023 12:39:26
спасибо
12.07.2023 19:56:56
Все замечательно
10.02.2023 23:13:52
vse ok