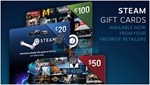 🔥Pay without commission
🔥After payment, please send a unique code to the seller
🔥 Do not leave negative feedback until the seller answers you
🔥 Issuance of a voucher of the required denomination within 10-15 minutes
The Steam Wallet Code (EURO) can be used to top up your Steam Wallet balance. It can be used by all Valve Steam users with a EURO wallet currency.
What is a Steam Wallet Code?
A Steam Wallet Code is a prepaid STEAM card used to deposit and top up a specified amount to your Steam account balance, which you can use to purchase your favorite games. Choose from all the top titles from current blockbusters and top hits to top independents.
No feedback yet