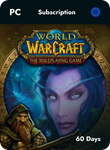 💳 Use Lava to shop in our store - COMMISSION 0% 💳
🔥AUTO DELIVERY WITHOUT WAITING, YOU WILL RECEIVE A SUBSCRIPTION ACTIVATION KEY IMMEDIATELY AFTER PAYMENT🔥
⚠️ This gift card is valid only for Russia, Europe and CIS countries (RU/CIS/EU) ⚠️
🔻Purchasing a time card, the player receives a game time activation code (subscription) in World of Warcraft (WoW) for 60 days. Instant delivery of payment card to e-mail.deliveryattention🔥🔥🔥 Join millions of players and discover an incredible world full of legends, magic and exciting adventures. When paying for game time, you will be able to play World of Warcraft and WoW Classic realms, including Wrath of the Lich King Classic🔥🔥🔥/delivery/attention
How to redeem the code:
1. Log in to Battle net account management
2. Select the World of Warcraft license you want to manage
3. Click Playtime & Subscriptions
4. Select "Redeem Prepaid Card" and click "Continue"
5. Enter the game time activation code and click "Get Code"
12.11.2023 17:40:21
Покупаю не первый раз, всё приходит моментально, спасибо.
28.07.2023 20:09:07
Все отлично и быстро, хороший продавец!
27.07.2023 10:28:36
купил тк 60 дней, все отлично
22.07.2023 18:07:13
Спасибо!