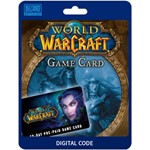 Game Time Card EU contains a special code that allows you to pay for 60 days of playing time for the European version of the online game World of Warcraft. Time cards replace credit cards.
✔ The code is suitable for all European countries, Russia and the CIS countries
✔ You will receive the code immediately after payment!
✖ Attention! the code is NOT suitable for the American (US) version of the game!
❓❓How to redeem the CD key?

🕐 Log in to Battle.net Account Management.
🕑 Select the World of Warcraft license you want to manage.
🕒 Click Game Time & Subscriptions.
🕓 Select Redeem a Prepaid Card and click continue.
🕔 Enter the prepaid game-time code and click Claim Code.
05.09.2023 11:19:57
все быстро четко
15.04.2023 14:16:31
Все отлично
29.03.2023 20:51:18
все четко